Despite valiant effort, Bears fall to lowly Giants without Trubisky
December 3, 2018
A bitter 30-27 overtime loss to the last-place Giants should serve as a wake-up call to the Bears, who lacked urgency on offense most of the afternoon without injured quarterback Mitchell Trubisky under center.
To their credit, the Bears made a valiant comeback to send the game to overtime. In desperate need of someone to step up on offense, Tarik Cohen delivered, torching the Giants defense in every way imaginable. Not only did Cohen catch 12 passes for 156 yards and rush for 30 yards, but he also threw a game-tying touchdown pass to Anthony Miller at the end of the fourth quarter.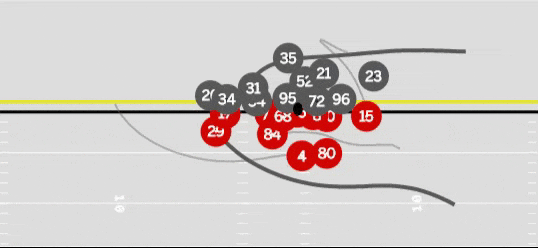 That's special stuff.
But in the bigger picture, the Bears committed way too many costly and uncharacteristic mistakes to escape with a victory.
When's the last time you remember the Bears defense busting not one, but two coverages on touchdown passes?
And Matt Nagy — one of the favorites to win Coach of the Year — did the Bears no favors by calling a timeout late in the second half that gave New York enough time to kick a field goal.
But arguably the most egregious errors occurred on offense, where second-string quarterback Chase Daniel failed to ride the wave of momentum he created by his better-than-expected effort last week in Detroit.
"Offensively we weren't doing great. We weren't in a great rhythm," Nagy said.
Unfortunately for the Bears, Daniel did not produce similar results in New York.
Daniel put the Bears in an early hole by throwing a pick-six to Giants linebacker Alec Ogletree, who finished the game with two interceptions.
Bears wide receiver Taylor Gabriel also contributed to the team's demise with a late fumble after a catch.
Daniel is a career backup for a reason. He's not in Trubisky's class in terms of athleticism, mobility and playmaking ability. Daniel is smart and well-respected, but Trubisky is the key to any long playoff run; probably why the organization proceeded with such caution in regards to Trubisky's injured right shoulder.
Trubisky received medical clearance to resume throwing, which he did Friday at practice and Sunday before kickoff during a pregame workout.
"He's feeling better," Nagy said. "For him it's going to be a day-to-day thing. It's going to be a day-by-day thing where we continue to see where he's at with communication.
"I said last week his arrow is going up every day it feels like. So we'll continue to keep our fingers crossed."
Daniel's uneven performance at MetLife Stadium should only hasten Trubisky's return. There is simply no way the Bears can knock off the Los Angeles Rams unless Trubisky is back in the starting lineup. The same argument probably holds true for Chicago's remaining games against Green Bay and Minnesota — the Bears would still likely be favored to win at San Francisco in Week 16 if they had to play Daniel.
The Bears are still a good bet to make the playoffs, but the road is about to get much harder.
Chicago's postseason run will be a short one unless they learn some lessons from Sunday's defeat.
The Bears have played smart and mistake-free much of the year. They have to get back to that style of football, and in a hurry, in order to redeem themselves with a huge victory over the Rams next week in prime time.